Von Königreich ins Königreich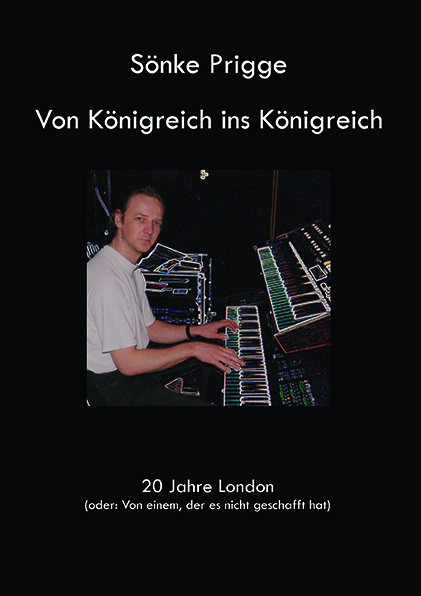 Ergänzend zum Buch, hier eine Auswahl meiner frühen Musikstücke aus London und Verknüpfungen zu den Internet-Seiten (Bands, Künstler, Kultur, London usw.) die im Buch beschrieben sind. Hier klicken um zur MUSIK-Seite zu kommen.
Zuerst mal: curfewmusic.com
aber da seit Ihr wohl auch schon so drauf' gekommen (und dann gibt's dort u.a. CURFEW worauf man klicken kann)    

Der CURFEW Bandcamp Shop
Das CURFEW Tageblatt Interview
Das CURFEW Inside – Video
CmI – Video Snowflakes In June

Rogers CD - Easy Storm
Firehorse (Aquarius2 / Orion / Life / Snow / Riding the desert)
April Anderson
BlackWhite = Link 1 + Link 2 + Link 3
BlackWhite – Poppies
The Emily Tree – CD




Loot Kleinanzeigen 
Brideshead 
Dave Smith – MIDI 
Guardian – London, über den Tod der Musikszene in London's Zentrum
Hackney + City of London
Landmark Forum
The wrong Trainers 1 und The wrong Trainers 2
The German Hospital = Link 1 + Link 2
Genfer Feuerwerk
Hurdy Gurdy
Withnail & I – Film
Anarchy – Punk Film

Erwähnte Musikstücke und Gruppen:

Interzone-Klaus & Rita
Rainbow
IQ
Leftfield   - Leftism
Bruce Dickinson
Dream Theater
J.M. Jarre  - Qxygene
Donna Summer - I feel love
Sailor - Stiletto Heels
Chick Corea
Kraftwerk
Pitch Black
John Lennon
Bee Gees
Genesis
Dave Stewart
Robbie Williams
Kraftwerk - Komputerwelt
Andreas Vollenweider
It Bites
Pink Floyd
Kirsty Hawkshaw und ihre Facebook Seite
Massive Attack
Lamb
Nitin Sawhney
Portishead
Morcheeba
Steve Hackett
Francis Dunnery
Røyksopp
Kings Of Leon
Rival Sons
Pete Townsend
Roland Kaiser
Imogen Heap
James Brown
Trust
Kinder
Goldfrapp
Lee Ritenour
Joanna Newsom
Michael Schenker Band
Al Steward
Jackson Browne
Richard Thompson
Faithless
David Dundas
Beyoncé
Katy B.
Chemical Brothers
Rodriguez - Sugar Man
Van Halen
Ramones
ToTo
Skrillex
Rush
Judas Priest
Grimes
The Police
Hacktivist
Sex Pistols
Richard Marx  und Lieder-Text
                       
Ich hoffe die LINKS funktionieren. Einige WebSeiten sind ja schon ziemlich alt und bei YouTube, im Zusammenhang mit der GEMA, weiss man ja auch nie was da gerade geht oder nicht.
©2019 S. Prigge